This is the story of our beautiful family. A story that I can't help but cry every time I reflect on it. Adoption wasn't just an option for us it was God's Best.


Riley & I tried seven years to have children and never imagined this is the path that God would lead us down. We look at our journey sometimes and ask ourselves, "Why us?" and then follow it up with "Why not us?" There were times I cried out in such anger to God, "Can you not hear me?" "Can you not see that my heart is broken in two and what did I do to deserve this?" Let's just say God and I had very many heart to heart discussions! Most of the time I was angry at him and felt so lonely. Through all of this though I learned God's timing is always perfect!! When I look into the eyes of my children, I see God's perfect plan all laid out. If often overwhelms me because our God is so good and I did not give him enough credit that he can DO ALL THINGS!
Our Story…………….
I had been diagnosed as having severe Poly Cystic Ovarian Syndrome as an early teen. One of the issues my doctor mentioned being a side effect of PCOS is that it would be very difficult to conceive without the help of infertility drugs when that time came. This was devastating news, especially to hear as a seventeen year old girl who really wanted children someday. Since I was five years old I dreamed of being a mother. During this time I also met my future husband, Riley, although I had no idea he would eventually become that. He was a senior and I was a junior in high school.
Fast forward five years later.....
Riley and I got married March 1998 and started trying for a baby six months later. My husband was still in college finishing his degree so we were not in a position to seek a fertility specialist right away. Every night we would take turns praying that God would allow a miracle to happen, that we would somehow defy the odds. After trying on our own for forty-two months we were finally in a position to seek help. Shortly after we made the decision to seek help I got very sick. Sick to the point that I would have to lay down in my office from the painful headaches I was getting. Then I started getting chest pains and at night when I would lay down it would feel like my wind pipe was closing off. Scary times! After seeing a couple doctors I was diagnosed with Graves Disease/Hyperthyroidism and bad hypertension which was causing my headaches. I later ended up doing a radiation pill to kill off my thyroid cell by cell. This meant putting a fertility specialist on hold to try and get me better. This was just heartbreaking news to both of us but very devastating to me. Every time I went in to my doctor I would ask, "Am I getting closer to being able to see a fertility specialist?" After fourteen months we were released to start trying again. My husband and I made the appointment with The Center for Assisted Reproduction and spent the next full year on an emotional roller coaster. It felt like every door that opened got slammed in our face. We did
clomid
and
injectable
fertility drugs with disappointment after disappointment. On Christmas Eve 2003 the clinic told us they couldn't help us anymore unless we decided to do
invitro
. Before starting our journey we had discussed that we weren't going to go broke trying to have a baby and we weren't going to put my body at additional risk. It didn't help that being sick and during fertility drugs made me gain 85 pounds (thankfully have lost 75 of it!!!). We went home to face family and try to put smiles on our faces, when inside we were broken. It was decided to let the holidays finish and then we would decide what to do next. We thought that maybe it would be best for us to pray separately and then we would come together and decide what we were going to do. As I prayed I found myself praying for God to change my heart for something else, instead of Lord please help me conceive. After praying for a few weeks I knew I couldn't handle infertility drugs anymore or the emotions that went along with it. I approached my husband and told him that I
couldn't
do it anymore and I wanted to adopt. He got this huge smile on his face and said, "I was praying that God would change your heart for something else. He said, "I
didn
't feel like I could tell you we were done trying, it was something you had to come to terms with on your own." It was then that we started making new plans and for the first time in years we were excited again! We contacted an adoption agency in Colorado because I knew one of the directors. They quickly accepted us as an out of state family and all we had to do was do their paperwork. It took us a few weeks to thoughtfully and honestly fill out their questions and essays requirements. Once we had it sealed, stamped and ready to send, we felt a catch in our spirit. Lord, we just spent all this time filling out this paperwork and then you don't want us to send it?? It was then we decided to wait on sending the packet for a week to make sure we were following God's will. During that week a friend of mine approached us and asked us to call a local fostering/adoption agency who handles children from child protective services. We thought about it and decided what do we have to lose, these are children who really need homes. So we called and they sent us an adoption packet. We filled it out and decided to go to one of their meetings in May 2004. It was at that meeting that God spoke to our hearts and we knew we were at the right place. Their mission passage was, "Children are a gift of the Lord, like arrows in the hand of a warrior - Psalm 127." That was what spoke to us, children are a gift and these children need good parents so badly. So we signed up for thirty-one hours of adoption classes. That night at the meeting Fort Worth and Arlington had a bad storm blow through with tornadoes. When we were finally able to leave the building we were scared to see what damage our house had sustained. Our neighbors met us outside with flashlights because a tree had blown over in our driveway. It just so happened that we had started a complete kitchen remodel that morning so we had no power and no kitchen. Our neighborhood
didn
't get power back for six days. So we were going to work, going straight to adoption classes and then to my husbands parents to sleep in their RV. We did this for two weeks. There was one point we thought, maybe we should put adoption classes on hold. My husband finally said, "Lets finish what we started." So we did just that. By the end of summer we had a new kitchen, completed our adoption classes and completed our home study. Now the hard part……waiting. We started praying that wherever our child was that God put his arms around them and protect them until they could come home. We had requested either an infant or a child up to two years of age. So we had no clue if our baby was even born yet or if they were in a bad situation. Going through Child Protective Services is hard because you know these are children that are being removed from abusive neglectful homes. Exactly thirty-two days from the day our home study was approved we got the much awaited call. They had a five day old baby boy that had become available. He had been tossed from a second story apartment window and had landed between two air conditioners and a railroad tie, on the grass. Our agency told us that the baby was fine and that he had a sister who was already in a foster home and they thought she would be adopted by that family. The agency also told us that we would be taking on a legal risk because the kids
weren
't legally available for adoption yet but they were pretty sure they would be. I called Riley to make sure we wanted to take on this particular risk and with all the info we had, we decided to do it. That in itself was a leap of faith and it was a scary uncertain time. When I got home from work Riley was shouting for me to come to the living room because it had made the news. It was then they showed a picture of his sister, Britney and I said, "It's a shame we
couldn
't have her too." Be careful for what you wish for. The next day we went to sign paperwork on Brady and when we got there we found out the state
wasn
't going to split them up. Riley and I were shocked. We had to stop and think about it for a bit because we would be taking on not one child but two. After talking and praying we decided what a blessing!! That night we got to go up to Cooks Children's and see/hold our son for the first time. It was the most emotional moment because it seemed so surreal. For him sustaining such a horrible fall he had no bruising and no broken bones, he was perfect. As if God had cupped him in his hands and gently lowered him to the ground.
Sitting at the hospital holding my precious baby, Brady.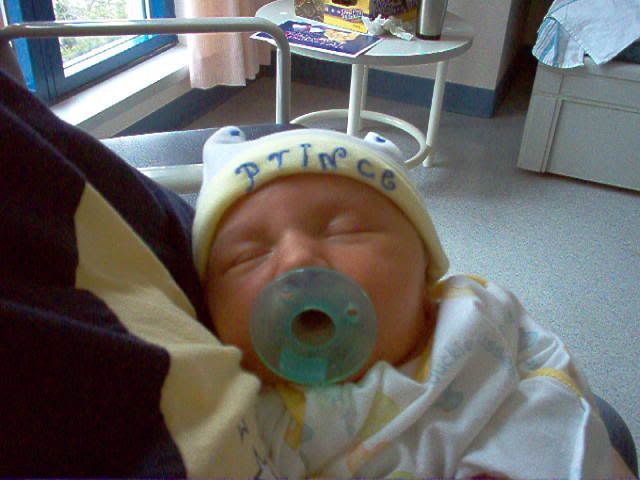 This was the first night we brought him home. There is my heart, my first born but middle child. He is wearing Riley's infant outfit.
Two weeks later we got to bring our daughter home. She was 34 months old and the most sweet natured loving little girl.
Here is Britney meeting Brady for the first time. It was also the first time we met her. Oh how blond her hair was! Here she is sitting with her foster mother Kelle, who has become one of my beloved friends and now she is Aunt Kelle!
She had been introduced to us as Mommy
Kriss
and Daddy Riley. By the next day she had dropped our names and were calling us Mommy and Daddy. Talk about the best sound in the world!! We ended up fostering the children for a total of ten months before we could finalized their adoption. We became a forever family August 29, 2005!
Then came the big surprise!! Three years after the adoption we get a letter in the mail telling us that Britney and Brady's biological parents were pregnant and due in two months. Because of a third degree felony charge (injury to a child) they were not able to keep the baby. Would we be interested in raising the baby with the other two?? When I first found out I couldn't help but cry. Who would have thought three and full blood related at that?? After much discussion we contacted our agency and arranged to redo our classes and our home study (as it had all expired). We had to completely re-do 34 hours of class time and we only had two months to do it!! The baby was due on November 6
th
but ended up being a week late. It was the longest week ever!! We were so very excited and for the first time it was like we were truly expecting a baby without the labor, stretchmarks, morning sickness, etc... Our baby boy was born November 14, 2007 at 12:05pm. He weighed 8lbs, 9
oz's
and was 21 inches long. After we found out he was born we started contacting CPS to let them know we had the siblings. That evening I was contacted by CPS to confirm that we did indeed want him. I told the worker, "Absolutely!! I have been waiting two months for him (but really all my life)!!" The next day ended up being very long. We weren't sure when they would release him and if they would release him to us. I walked around the house pretty much a zombie that day and my MIL came over to sit with me. Neither of us spoke very much (which is unusual when the two of us get together) because we were on edge. Finally around 1pm CPS called and said he was getting released and that they would be bringing him to me around 4pm. They didn't end up getting to our home until 6pm. He was thirty hours old when they placed him in my arms and it was INSTANT love!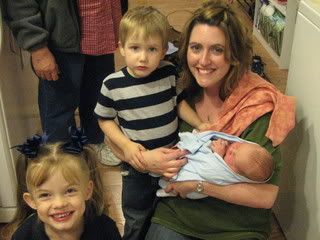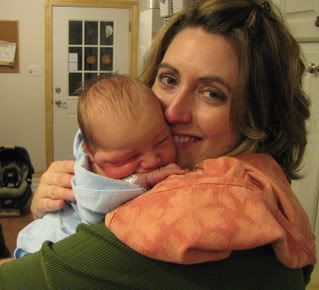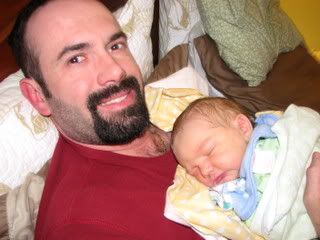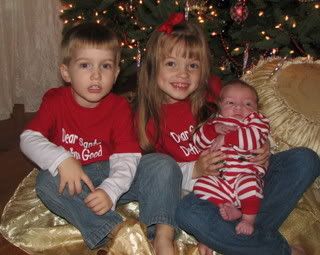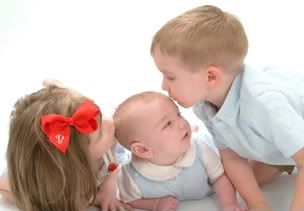 His termination trial was set for April 8, 2008. Riley stayed home with Brady and Ben (Britney was at school). When I walked into the courthouse a flood of memories came rushing back. It was hard to choke back the tears. The last time I had been in that particular courthouse it was a 50% chance the kids would go back to their biological parents. I have never been so scared in my entire life! Needless to say we won that trial with rights being
relinquished
and terminated! I am happy to report that we won the exact same thing on Ben!!
Whoohoo
!! His biological mother had signed away her rights in the morning prior to court. When I got to the courthouse they were still waiting on biological dad to sign away his rights. He hadn't wanted to get up out of bed to come with bio mom. So a CPS worker drove to his apartment and picked him up. It delayed court about an hour. When he walked in, again I had to hold back tears because I saw what my boys will look like at twenty years old. It only took him a few minutes to sign his rights away and then we got ushered into court. We had the same judge as last time and she remember Britney and Brady. The judge terminated rights as well so with the
relinquishment
bio parents have no appeals process! Finally the adoption day was finally set and to make it even sweeter....... he was adopted on the exact same day as Britney and Brady just three years later, August 29, 2008.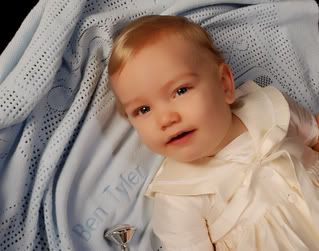 This was Ben's adoption Day (I will put Britney and Brady's pictures from their adoption one I copy them to this new computer)
I look how far we have come and it still seems like a dream. God is so good! I never in my wildest dreams imagined I would get to be a mommy to one child never the less three. Furthermore three that are all blood related. I feel so honored to get to be chosen to do this. Adoption is so rewarding and when I look at my
children
I can't help but feel this
immense
love for them. There is so much more to our story that I could literally write a book. I love talking about our experience with Child Protective Services and what God did for us. If you have any questions always feel free to ask.